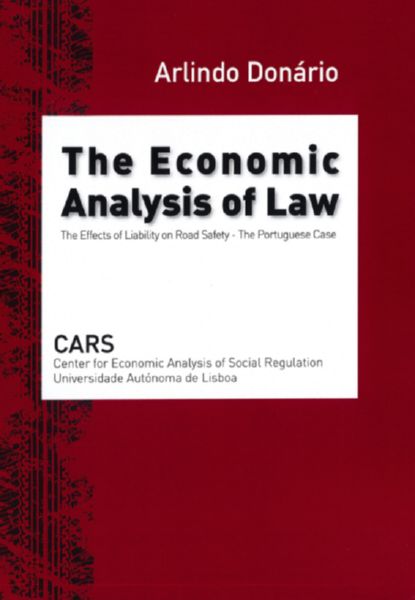 Edição: |
Arlindo Donário
Arlindo Donário received his Ph.D. in Economics from the Universidad de Extremadura, Spain and is currently a Professor of Economics at the Universidade Autónoma de Lisboa, Portugal. He is a graduate in Economics, Finance and Law. He has authored and co-authored several books with Ricardo Borges dos Santos on a wide range of topics pertaining to economics, the economic analysis of law and the issue of road accidents, such as Road Accidents, Risk and Biological Factors, The Economic and Social Cost of Road Accidents. The Portuguese Case – both with preface by Rune Elvik, and Homo Economicus. On the topic of Cooperative Law, the author has published the book Natureza dos Excedentes e Reservas nas Cooperativas: O Seu Retorno e Distribuição (The Nature of Surplus and Reserves of Cooperatives: Return and Distribution). He is also the Director of the Center for Economic Analysis of Social Regulation, "CARS", a research institute at the Universidade Autónoma de Lisboa, Portugal, which conducts scientific research and development, predominantly in the field of social regulation.
A morte, a invalidez e as consequências sociais dos desastres de viação constituem um tema da maior actualidade dos dias de hoje. Devemos aumentar as sanções que penalizam os infractores ou aumentar as probabilidades da aplicação das leis?
É uma das perguntas críticas colocadas no presente trabalho, fruto duma investigação aturada sobre um problema que afecta de forma crónica a realidade actual portuguesa, bem como a de muitos outros países, e que tem reflexos nas mais variadas esferas: desde logo a social, a económica, a política, passando pelas mentalidades e comportamentos que urgem ser transformados.
Submeter a uma análise rigorosa os Acidentes de Viação, recorrendo a uma metodologia multidisciplinar, é o objectivo do trabalho agora apresentado, procurando compreender esta equação demasiadas vezes fatal.