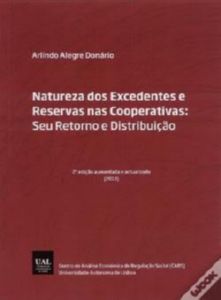 Edition: |
Arlindo Alegre Donário
This study resulted from the experience in a higher education cooperative, over several years, which led us to deepen this branch of law, with the aim of its empirical application, in order to experience the cooperative principles that express the mutualist and personalist nature. of cooperativism.
Este ramo de direito está intimamente ligado à economia, portanto, ao trabalho, à produção de bens e serviços. Entre as formas de realização do ser humano sobressai o trabalho quando realizado com satisfação per se, bem como quando o resultado desse trabalho permite uma vida de acordo com a dignidade humana, cuja realização deverá ser respeitada e impulsionada por todos, nomeadamente, por aqueles que desempenham funções no âmbito político e empresarial, a fim de que esse trabalho não se assemelhe à condenação de Sisifo.
O cooperativismo com o seu cunho humanista visa a satisfação do ser humano em vários domínios estando, por conseguinte, em estreita ligação com a dignidade humana, relevando de valores éticos e solidários, visando a justiça comutativa e distributiva.
Qualquer estudo é o resultado do labor de investigação de muitos outros autores que já antes se debruçaram sobre os temas em análise, bem como das discussões com outros que têm interesse por estas questões. O conhecimento é um processo contínuo, dinâmico e provisório, logo, sempre inacabado.
Nesta segunda edição desenvolvemos o conceito de valor acrescentado, que consideramos ser um instrumento útil para a aplicação do direito cooperativo, bem como desenvolvemos a questão da dissolução das cooperativas.